– From John –
I am a clinical psychotherapist and instructor at the University of Denver, where I teach liberal arts. My wife, Dayna, and I have been married for twenty-five years and are the parents of three boys, who all are interested in music and the arts.  They sometimes paint with me.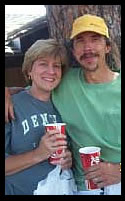 I began painting seriously when my father, a kind and generous man, moved into assisted living at an advanced age.  Not knowing what to give someone who really didn't have much use for material possessions, I began drawing and painting scenes from photographs that I'd taken earlier in life, and I gave him these on special days.  I hope it pleased him.

I believe that an artist is simply someone who has to create—-there is no choice.  It feels that way to me—when I'm painting, I feel more alive, more connected, than at almost any other moment.  Artistic expression is, for me, an act of faith that there are still good things in the world, and that beauty can be found in the simplest of things.

An avid outdoorsman, John's painting subjects are often taken from remote locations.  He specializes in winter landscapes and aquatic themes.
He and his wife, Dayna, live in Littleton, Colorado, with their three sons, Ben, Matt, and Brett.
---
– Gallery Representation –
John's work is primarily in oils. He was the featured artist in the Artwork Network newsletter in November of 2009.  Two of his works were selected for exhibition at the Eleventh Annual Lone Tree Art Exhibition and Sale in Lone Tree, Colorado.  He exhibited several large works at Parker Adventist Hospital in Aurora, CO, during May and June 2013.  His work is displayed online and available for purchase thru Contemporary Fine Art International (CFAI) within his active blog at http://johnwilsonfineart.blogspot.com/
His paintings can be viewed by appointment at the Penn Street Studios in downtown Denver, (a working artist's studio) 194 S. Pennsylvania St. Denver, CO 80209.  Also, email John at lonetreeart@aol.com , or call him directly at (720) 838-0450.
---
 -Gallery Listing-
Penn Street Studios, Denver Colorado (by appointment)
Contemporary Fine Art International (CFAI)
http://johnwilsonfineart.blogspot.com/ 
Mary Williams Fine Arts
5311 Western Ave. Unit 112
Boulder, CO 80301
303-938-1588
www.marywilliamsfinearts.com
Framed Image
5066 E. Hampden Ave.
Denver, CO
303.692.0727
www.framedimage.net